ORIGINAL WILDLIFE ART & PRINTS
Discover Enchanting Wildlife Art from Wildlife Artist Naomi Jenkin
Whether you are looking to add a contemporary piece of art to your home, feel closer to nature with wildlife art, or purchase a unique gift, you'll find a diverse and captivating selection of Wildlife Art in my collection.

Browse the Naomi Jenkin Art online shop and discover a beautiful array of Original Wildlife Art and Wildlife Prints.

ORIGINAL WILDLIFE PAINTINGS
Why Buy Your Art from Naomi Jenkin?
"The realism of Naomi's artwork is breath-taking"
Have you ever looked at a painting and felt like you could step right through it into another world? That's exactly how I aim to make you feel with all my wildlife paintings. But more than that, I want to bring alive the personalities and emotions of each animal I draw. I hope that when you look at
my paintings, you can feel the strong emotional bond between a mother and her cub, or become transfixed by those serene all-knowing eyes looking right into your soul.
I put a huge amount of love and dedication into each artwork, and draw them with incredible attention to detail.
So, whether you're buying for yourself, or looking for that extra special gift for your loved one, you know that your wildlife art will be something to treasure for a lifetime.
WILDLIFE PRINTS
"A really lovely high-quality print, one of the best of my collection"
Do you get excited about purchasing a special piece of art? You're not alone! Whether you're buying for yourself, or as a surprise gift for a loved one, there's always that thrill of excitement and anticipation. I know how special your picture will be to you or your loved one, and so I pride myself on providing you with the best quality service.
The close attention to detail that is poured into every drawing also goes into producing my range of limited edition giclee prints. 
Art should be enjoyed by everyone and my aim is for you to enjoy my art in an affordable way without any compromise on quality.
All my wildlife original drawings are available as fine art prints and are professionally produced to the highest standards. They're painstakingly colour-matched to the original drawing, and the details are so crisp that you could be forgiven for mistaking your wildlife print for the original!
I pride myself on providing you with the best quality every step of the way; from the reproduction process, to the packaging, to the care advice I provide you with. 
Every wildlife print comes hand-signed and numbered with a special certificate of authenticity. You can also choose from a range of sizes, giving you the ultimate flexibility and choice.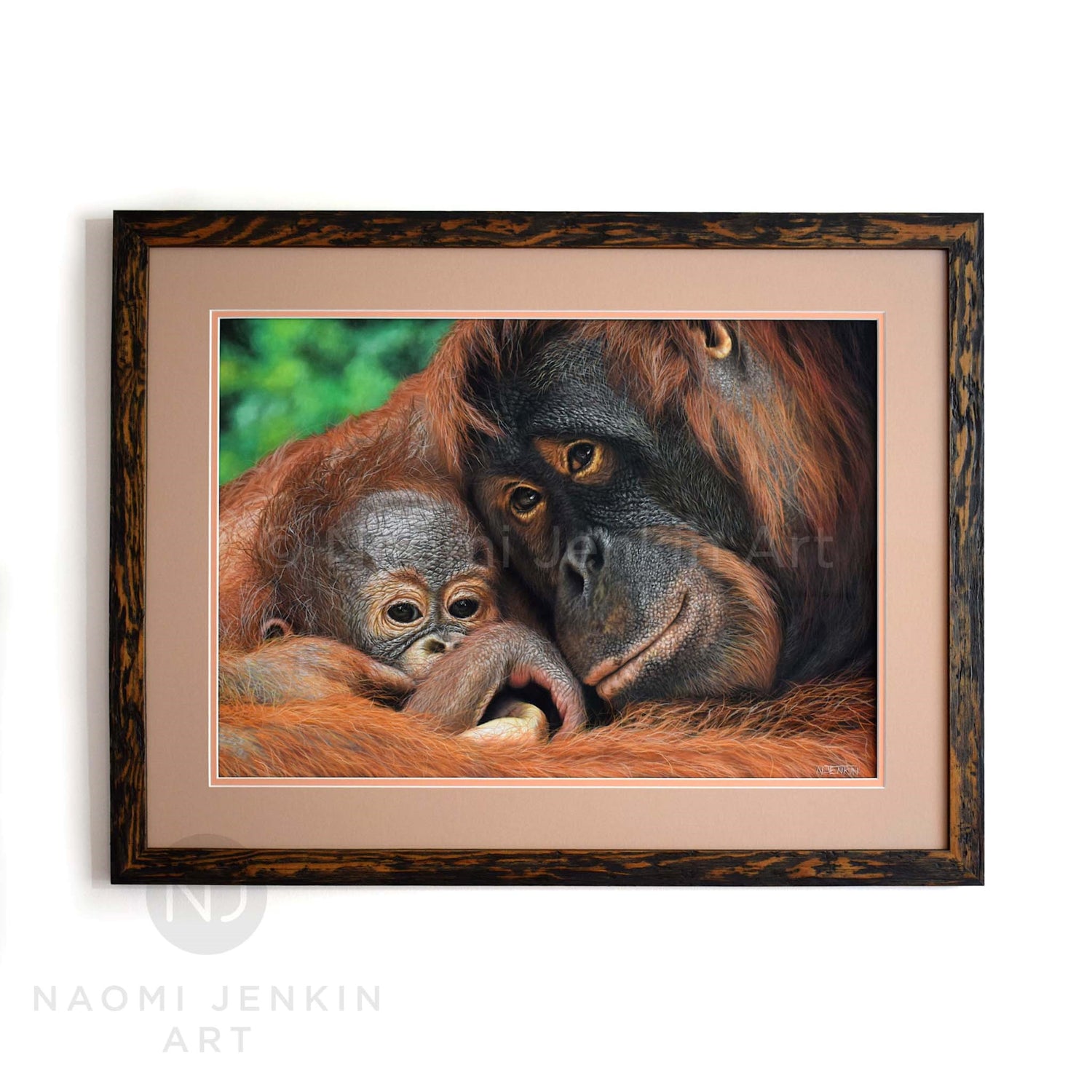 Wildlife Artist of the Year 2022 Finalist
Last year I was thrilled to be selected as a finalist in the prestigious Wildlife Artist of the Year 2022 competition.
Run by the David Shepherd Wildlife Foundation, the event brought together some of the most talented wildlife artists from across the globe, with 1650 pieces of art being entered into the competition. A staggering £85000 was raised for conservation projects across Africa and Asia.
My orangutan painting "Hold Me Closer" sold as part of the exhibition, with proceeds being donated to these conservation efforts.
WILDLIFE ART - BEHIND THE SCENES
As you may have guessed from looking at my wildlife drawings, they take a lonnnng time! I work for hundreds of hours on each piece, slowly refining the details until it's as realistic as it can be. Capturing the right emotion and energy of a piece is one of the trickiest parts of the process.
It often takes several rounds of tweaking until I'm satisfied. You can see a little insight into this creation process in the video below.
SEASCAPE PAINTINGS AND PRINTS
Whether you live by the sea or holiday by it, I'm sure you've experienced those wonderful emotions which the ocean can spark. From a deep calm feeling to a sense of utter awe and amazement. Mother nature can really put on her best displays through the changing moods of the ocean.
My seascape oil paintings capture fleeting snapshots of those moments, for you to enjoy and quietly contemplate in your own time. From the comfort of your living space, you can be transported to a quiet early morning walk along the beach; the soft early light casting beautiful pastel shades across the sky. Or perhaps a summer sea storm is raging and you sit transfixed as the ocean rises up and crashes down with a thunderous spray.
All my paintings are available framed or unframed. Plus, I provide free delivery in the UK so you can have your painting delivered straight to your door.
SEASCAPE PRINTS
Many of my clients tell me how their seascape prints bring back wonderful memories of family days by the sea. If you're searching for a high-quality meaningful gift for your loved one, then a seascape print could be ideal.

All of my seascape prints are produced from original seascape paintings and are inspired by the Cornish coastline. Many feature well-known beaches in Cornwall, so you might just find a gorgeous seascape print of your favourite holiday location!
Each print is part of a limited-edition range and comes numbered and hand-signed by myself, the artist. Available in three sizes, you can choose the best option for your wall space and budget.
Choosing a selection results in a full page refresh.
Opens in a new window.